F A L L • 2 0 1 2
VOLUME 13, ISSUE 3
---
A R T I C L E S
Will you send your oldest son away? (And his mother, too)
Martin L. Carey
Walking in the Spirit
Chris Badenhorst
Living in the Church, the Body of Christ

[21:15]
Dale Ratzlaff
Lead, feed, and protect
Colleen Tinker
---
D E P A R T M E N T S
EDITOR'S COMMENTS
Living by the Spirit
Colleen Tinker
ASK THE PASTOR
How can you have life assurance?

[5:12]
Dale Ratzlaff
STORIES OF FAITH
Healed from my shame
Liz Church
ADVENTISM EXAMINED WITH RICK BARKER
Adventism's fundamental belief #3: The Father: Spirit or Body
Rick Barker
THE LIFE EXAMINED WITH CAROLYN MACOMBER
Another Jesus
Carolyn Macomber
THE LIFE AFTER WITH CHRIS LEE
Not for profit
Chris Lee
MINISTRY NEWS
First former Adventist conference in Michigan met this past Summer
MINISTRY NEWS
Former Adventist Fellowship [S. California] Conference 2013:
"Living by the Holy Spirit"
MINISTRY NEWS
We need your support now
LETTERS TO THE EDITOR
Our readers respond
---

Copyright 2012 Life Assurance Ministries, Inc., Casa Grande, Arizona, USA. All rights reserved. Revised October 2, 2012. Contact email: proclamation@gmail.com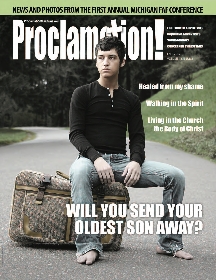 Vol. 13, Issue 3 • Fall 2012
Founding Editor Dale Ratzlaff
Editor Colleen Tinker
Design Editor Richard Tinker
Copy Editor Cristine Cole
Contributing Editors
Rick Barker, Martin L. Carey, Chris Lee,
Carolyn Macomber
,
Proofreader Carolyn Ratzlaff
Life Assurance Ministries, Inc.
Board of Directors
Richard Tinker, President, CFO
Cheryl Granger, Secretary
Martin Carey
Dale Ratzlaff
Carel Stevenson
Proclamation! is published quarterly by Life Assurance Ministries, Inc.,733 E. Black Diamond Dr., Casa Grande, AZ 85122. Copyright ©2012 Life Assurance Ministries, Inc. All rights reserved. Printed in U.S.A. Editorial Office, (909) 794-9804.
E-mail: proclamation@gmail.com



NEW Audio Proclamation!
CLICK ON

BESIDE EACH FEATURE