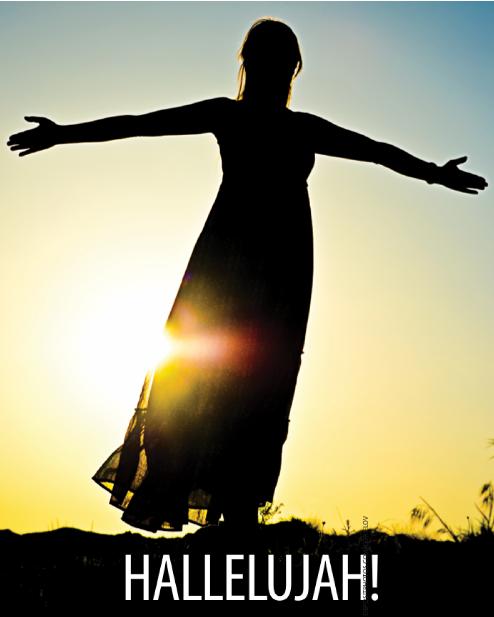 I was studying Revelation 19 in order to teach it to a group of 5th and 6th graders. As part of my study I decided to watch Gary Inrig's presentation of the same chapter on YouTube. What struck me from his teaching was the meaning behind the word Hallelujah. The word basically means, "Boast in the Lord!" Pastor Gary mentioned that it is a command or imperative sentence such as, "Sit over there." I had always thought Hallelujah was just a word to use in praise—not a command.
Now my study of Revelation 19 took on a whole new meaning. I wondered what followed the four Hallelujah's in that chapter? What were the people boasting about? Let's take a look at what followed the first Hallelujah, "Salvation and glory and power belong to our God" (Rev. 19:1). The verses boast not only in the fact that God has judged and destroyed the great prostitute who represented evil, but also in God's power to judge evil. Wow! Are you boasting in God and His power over sin? Are you boasting in God even amidst the effects of sin? I had to ask myself, "Do I boast in the Lord when hard circumstances come my way as a result of evil?"
The second Hallelujah in Revelation 19 says, "Hallelujah! The smoke from her goes up forever and ever." (Rev. 19:3) Wow, again! Evil is utterly and completely destroyed forever. It's over. Indeed, that is something to boast about. Only God can destroy evil. Death is a result of sin, and sin is evil in the sight of a Holy God. "Death has been swallowed up in victory. Where, O death is your victory? Where, O death, is your sting?" (1 Cor. 15:54b-55). Maybe we should say again, Hallelujah!
Then, in Revelation 19:4, there is the third Hallelujah: "Amen, Hallelujah!" Amen means, "Let it be so". "Amen, Hallelujah", then, would have the connotation, "Let it be so; boast in the Lord!" Yes! Let it be that we boast in the Lord. When was the last time you told someone of God's goodness and power in your life?
The last Hallelujah in Revelation 19 follows a sound like the roar of many waters and peals of thunder. They cry out, "Hallelujah! For the Lord our God the Almighty reigns" (Rev. 19:6). The Lord will at last physically reign forever with justice over the whole earth. There will no longer be dictators or kings, but only one King above all kings who will rule. The political climate will be focused on one world government and one ruling King. How do you think it will be to live under the reign of the Lord Jesus Christ? Can you imagine a world ruled with perfect justice and mercy?
Have any of you longed for justice? The cross is a perfect example of the Lord's justice and mercy. When we look at the cross we need to call out, "Hallelujah"!
King David is known for exuberant love for God. He danced before the ark of the covenant as it was brought to Jerusalem. The Psalms talk about David's whole being exclaiming, "Who is like you, O Lord? You rescue the poor from those too strong for them, the poor and needy from those who rob them." (Ps. 35:10).
I confess I used to feel jealous of those who would boast in the Lord. They would tell stories of God's work in their life. I would wonder where and if God was working in mine. He didn't seem to respond in ways I wanted Him to. For some reason I had gone brain dead regarding the great gift of salvation and the forgiveness of my sin. I saw only my current circumstances.
Now when life gets difficult I purposely look for what I call God's thumb print, and I can more often see His blessings and mercies in the midst of hard things. I am never alone.
Can you boast in the Lord today? Will you find someone each week to tell of His goodness to you? How will you look for His thumb print amidst difficult circumstances? Shall we all shout like those in Revelation, Hallelujah!? Amen, Hallelujah! †
---

Copyright 2016 Life Assurance Ministries, Inc., Camp Verde, Arizona, USA. All rights reserved. Revised June 7, 2016. Contact email: proclamation@gmail.com