F A L L • 2 0 1 5
VOLUME 16, ISSUE 3
---
D E P A R T M E N T S
LETTERS to the Editor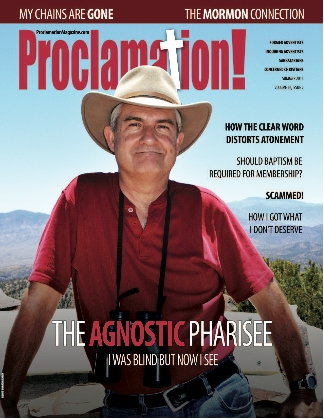 Mormon connection makes sense
I have been receiving Proclamation! for many years. As an evangelical Christian, it has educated me rather well in this cult and makes it so easy to educate others when they ask about Adventism.
Your last edition spoke about the similarities between some of Ellen White's writing and Joseph Smith's, prophet of the Mormon church. This was certainly a surprise.
However, knowing as much as I do about LDS (Mormons), it was an easy connection for me to make. It certainly does make sense once a person stops and thinks about it.
Blessings to you all and thank you for your faithfulness.
Pasco, WA
Thank you for truth
I wanted to write and thank you for the magazine. I have truly enjoyed it. I don't know much about the Seventh-day Adventists as I have never been a part of their church nor have I visited or even known anyone who did. With the rise of conditional immortality from books such as Edward Fudge's book, however, many are now examining the Seventh-day Adventists to see if they are a reliable group to worship with. I am thankful for the truth that you give to us in this magazine.
May the Lord bless you!
Lexington, SC
Devoid of the Spirit of God
It's easy to judge the Seventh-day Adventist church as being deplorably ignorant, deceived, and without Christ (wretched, pitiful, poor, blind and naked). But any cult, forum, or magazine that presupposes that Adventist failures are secrets and lives on the husks of those failures demonstrate that they, too, are devoid of the Spirit of God.
Richardson, TX
Now I can explain the covenants
The article by Bryan Clark ["We are ministers of a new covenant", Spring, 2015] makes me understand the old and new covenants as they should be understood. He is certainly adequate in explaining 2 Corinthians 3—well, OK, the Holy Spirit has made him adequate. I just want to thank him for writing it. I can explain this subject now to my brothers and sisters in my former church. Thank you again.
Jakarta, Indonesia
Sunday Law nearer than you think
As I read your magazine, I'm confused about how you can let Bible truths go. Take the Sabbath issue, for example. "Remember the Sabbath day." God blessed the Sabbath and made it holy. You go to church on Sunday; there's no Bible text to support that. I read where one of your writers said that Sunday was worshiped long before Catholics changed the day to Sunday. Those people were called pagans. …If you don't like Ellen White, then start another church, but don't throw God's Sabbath away. I can get the message of Adventism from the Bible only.
You don't believe the the Sunday Law is coming. Watch the news. It's nearer than you think.
via email
Editor's note: In order to understand the Sabbath, one must understand God's covenants. He made unconditional covenants, and He made a conditional covenant with Israel. For more clarity about the old and new covenants, read Bryan Clark's article "We Are Ministers Of A New Covenant" in the Spring, 2015, issue of Proclamation! Also read Dale Ratzlaff's article, "Was Sabbath Created?" in this issue.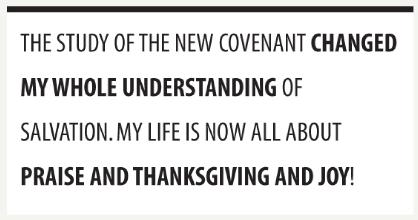 Thank you for Proclamation!
Thank you so much for producing Proclamation!. It has been of great value to many of us who are former Adventists.
I want to thank you especially for bringing out Phyllis Watson's material on the Mormon connection with Ellen White. Phyllis and I were close friends…It was from a heart of love that she was motivated to present facts to those who were suffering from fear and confusion about Adventism's non-biblical teachings which were based on Ellen White's [EGW] writings.
After 40 years as a fourth-generation Adventist who had studied Adventist doctrines and EGW's writings in depth, it was my understanding that I would be lost if I so much as questioned "The Truth".
By the late 1970s I came to the conclusion that if Adventism was "The Truth", then heaven was going to be a very empty place because there was no one who ever had or could or would be able to reach the perfection required to live on their own so-called righteousness after "probation" closed and the Holy Spirit was said to be withdrawn. At that time it was clear to me with "complete assurance" that there was no salvation possible for anyone.
About that time my husband, who was on the staff at Pacific Union College, was taking a class from Dr. Desmond Ford. My husband recorded each lecture and brought each home for me to hear. For the first time I actually heard and was able to understand the good news!…
About 10 years ago I was studying the book of Hebrews and came across some explanations of the new covenant. That study of the new covenant changed my whole understanding of salvation. My life is now all about praise and thanksgiving and joy!
Even though I have recently lost my dear husband after 60 years, I can still live securely in the knowledge that all is well, and we are in Christ having passed from death to life—we are the righteousness of God in Him. While we wait for His soon coming, He is currently gathering one by one to live forever, adopted into the family of God.
Once again, sincere thanks for the work you are doing.
Napa, CA
Glee in criticism
Please remove our names. You are nothing more than an organization that takes great glee in being critical of an organization that has been established by Bible prophecy.
College Place, WA
My eyes began to open
I have been meaning to write to you for a very long time to tell you how very much we appreciate your ministry and to thank you for all the wonderful and helpful articles in Proclamation!.
As a third generation Adventist who attended their schools from third grade through college, I believed it all! After I met my husband, I told him I would never marry anyone who was not an Adventist, so he became one. But after three years he said he could no longer go on in that church.
At that time I began reading the New Testament to show him he was wrong, but that time my eyes began to open, and I saw things I'd never seen before! My husband invited me to attend the new members' class at the Baptist church he had chosen. Somehow I went, curious about what they believed.
The teachings were presented from a spiritual point of view. I heard the true gospel and responded to it after a few weeks—praise God!!
This story could go on and on, but I will just say how difficult it was to trust completely in our Savior's finished work on the cross, but at those times I was reminded and given verses of assurance.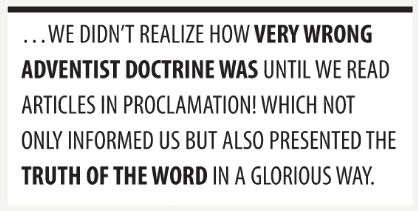 Down through the years since 1971, we didn't realize how very wrong Adventist doctrine was until we read articles in Proclamation! which not only informed us but also presented the truth of the word in a glorious way!
For all this, we again thank you. We pray for you and your ministry every day and even more as soon as we receive our next issues, that it will be used to open more hearts to receive Jesus Christ and to learn the real truth in God's word!
You are such a blessing!
Elk Grove, CA
Generalizations, nitpicking, and confusion
The fact that you are putting so much emphasis on Adventism causes me to question your intentions. After reading a lot of content on your website, I have failed to find anything specific that you point out as being in error in the Adventists' fundamental beliefs. I see a lot of generalizations, nitpicking, and running around in circles.
After leaving the Adventist church, then what? What new-found mission have you been inspired to bring about? What message have you come to warn mankind of? Through the history of the Bible, God generally speaks to mankind through prophets, visions, and the Holy Spirit to relay a message (Heb 1:1-3). Will leaving the Adventist church to gain "freedom" by grace grant me a better spot in heaven? Every truth I've read on your site is already observed by the Adventist church. Leaving Adventism would only take away from but not add too my relationship with God. The only things that seems to be in question is Ellen White, and some preconceived notion that Adventists don't believe in salvation by grace.
Furthermore, I have found nothing from what Ellen White has prophesied to be opposed to the Bible; the problem appears to be centered on the view that her writings are legalistic; however, even through we are free from the penalty of the law by grace, we are not free from its observance (Matt. 5:17-20).
In conclusion, I find no statement of purpose or new light from your former Adventism movement.…Lengthy explanations of simple truths are typically the works of confusion. I pray we both are grown closer to the truth to be in harmony with God through the Holy Spirit.
via email
Editor's response: For a closer look at Adventism's fundamental beliefs, see the columns by Rick Barker in Proclamation! magazine over the past four years (and continuing in future issues) in which he examines each belief individually. The back issues are all available here: http://lifeassuranceministries.org/proclamationback.html. As to your question about freedom by grace yielding a better spot in heaven—Jesus' words to Nicodemus address our presence in heaven: "Truly, truly, I say to you, unless one is born of water and the Spirit he cannot enter into the kingdom of God. That which is born of the flesh is flesh, and that which is born of the Spirit is spirit.…He who believes in Him is not judged; he who does not believe has been judged already, because he has not believed in the name of the only begotten Son of God" (Jn. 3:5-6, 18).
We do not enter heaven based on our sincerity or on our best efforts to keep the law. Sabbath-keeping is not a requirement for salvation. Rather, repenting of our sin and placing our full faith and trust in Jesus results in our being born again and sealed by the Holy Spirit (Eph. 1:13-14). We cannot be saved by "accepting" the Sabbath; neither can we be lost for not keeping the Sabbath. Our works have nothing at all to do with our salvation. Our salvation is on the basis of Jesus' finished work on the cross, His resurrection, and His ascension. When we trust Him for our forgiveness and our life, we are transferred out of the domain of darkness into the kingdom of His beloved Son (Col. 1:13). "Salvation belongs to our God who sits on the throne, and to the Lamb!" (Rev. 7:10).
---

Copyright 2015 Life Assurance Ministries, Inc., Camp Verde, Arizona, USA. All rights reserved. Revised November 10, 2015. Contact email: proclamation@gmail.com